You're one step closer to your order
Whether you are a professional contractor or creating your dream yourself, let us know what you need and we'll get back to you to discuss. Our experienced staff will help you chose the most appropriate and cost effective natural stone products and accessories for your backyard, landscaping or building project.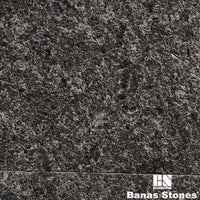 Banas Stones® Square Cut Flagst...
Starting At: $23.09 per Sqft.
Size: 12"x24"
Please review your product details and note that the final price is subject to change.
Square Cut Flagstone
Black Pearl is an elegant granite featuring a rich black colour blended with a fine top texture and pearl highlights. Black Pearl works well with both contemporary and modern or urban landscape designs. This one of a kind stone is  reminiscent of a starry night in mid-July, and boasts beauty along with being highly durable and weathering well.
Finish: Top Flamed, Bottom Sawn, Edges Sawn
Sizes:
300mm x 600mm, 450mm x 600mm, 600mm x 600mm and 900mm x 600mm.
Custom sizes available upon request.
Thickness:
Other thicknesses available upon request