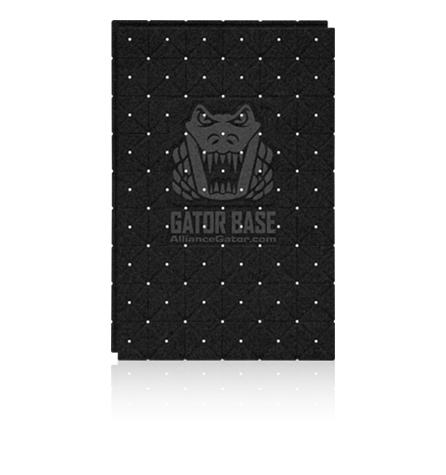 You're one step closer to your order
Whether you are a professional contractor or creating your dream yourself, let us know what you need and we'll get back to you to discuss. Our experienced staff will help you chose the most appropriate and cost effective natural stone products and accessories for your backyard, landscaping or building project. Alliance Gator® Gator Base
Starting At: $21.99 Each
Title: Default Title
Please review your product details and note that the final price is subject to change.

GATOR BASE is an evolution of foundation technology, which saves you time, labor and money! 
It is manufactured for pedestrian applications such as: patios, pool decks, walkways, 18″ (45 cm) seating walls and fire pits, allowing you to clearly define your spaces and highlight the focal points of the dream staycation area. Designed with a tongue and groove system, GATOR BASE is easy to install. A single GATOR BASE panel is also equivalent to 130 kg (288 lb) of crushed stone, saving you a minimum of 6″ (15 cm) of additional excavation.
The GATOR BASE drains water through channels and is made from lightweight, high density polypropylene. Environmentally friendly, GATOR BASE is 100% recyclable, extremely durable and GATOR BASE does not degrade in the soil when buried.
IDEAL FOR:
Use for small or large pedestrian projects such as:
Patios, sidewalks, walkways, paths and pool surrounds
18″ (45 cm) seating walls and fire pits
Concrete pavers, natural or wet cast stones
Porcelain tiles and slabs
The Perks Of Using Gator Base
Save 6″ (15 cm) of additional excavation
Save 6″ (15 cm) of compacted crushed stone
50% savings on the costs of soil excavation
Save the cost of truck and driver on the road
Avoids costly unloading and dumping fees
Reduces labor costs by a minimum of 20%
Reduces wear and tear on machinery
Reduces overall installation time
Reduces unnecessary excavation
Project completed faster and easier
Gator Base panels help transfer dynamic and static loads
Helps to combat the labor shortage

Take Note: For pedestrian use only