You're one step closer to your order
Whether you are a professional contractor or creating your dream yourself, let us know what you need and we'll get back to you to discuss. Our experienced staff will help you chose the most appropriate and cost effective natural stone products and accessories for your backyard, landscaping or building project.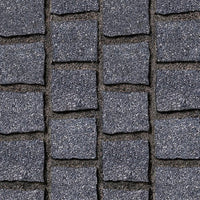 Unilock® Nordic Cobble 60mm
Starting At: $11.39 per Sqft.
Cube (78.6 Sqft.) / Mountain Mist
Please review your product details and note that the final price is subject to change.
Nordic Cobble
Modelled after traditional hand-cut granite cobbles, Nordic Cobble is a stylish option for striking borders, grid patterns and circular designs. Randomized cobble 'faces' offer a natural look that works equally well whether its used in combination with rustic pavers or juxtaposed with sleek, contemporary slabs. Nordic Cobble can be installed either traditionally, or on a permeable base to allow water to flow through.
Unit Dimensions:
TRAPEZOID
89.9mm x 94mm x 60mm
3 5/8" x 3 3/4" x 2 3/8"
Bundle Specifications:
| | |
| --- | --- |
| Coverage | 78.6 Sqft. |
| Coverage Per Layer | 9.83 Sqft. |
| Units Per Bundle | 1728 |
| Units Per Layer | 216 |
| Weight | 2157.16 lbs |