You're one step closer to your order
Whether you are a professional contractor or creating your dream yourself, let us know what you need and we'll get back to you to discuss. Our experienced staff will help you chose the most appropriate and cost effective natural stone products and accessories for your backyard, landscaping or building project.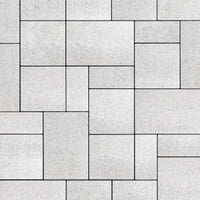 Unilock® Umbriano 60mm
Starting At: $14.99 per Sqft.
Cube / Grenada White / XL Slab
Please review your product details and note that the final price is subject to change.
Umbriano 60mm
The granite-like surface appearance makes Umbriano a popular choice for sleek, modern projects as a paver or wall product (see U-Cara Multiface Wall System). Its unique mottled surface is achieved with ColorFusion™ Technology which randomly disperses rich color and granite particles to achieve a natural, non-slip texture. These characteristics make it a popular choice for pool decks. As well, Umbriano is factory sealed with EasyClean™, an integral surface protection from stains. This is a significant benefit when Umbriano is used in driveways, outdoor dining areas and high traffic commercial projects. 
Unit Dimensions:
XL SLAB
540mm x 900mm x 60mm
21 1/4" x 35 1/2" x 2 3/8"
Bundle Specifications:
| | |
| --- | --- |
| Coverage | 62.76 Sqft. |
| Coverage Per Layer | 10.46 Sqft. |
| Units | 12 |
| Weight | 1722 lbs |
Random Bundle - (Units cannot be sold separately. Purchased and sold as a random unit bundle.) 
LARGE RECTANGLE
350mm x 546mm x 60mm
13 7/8" x 21 1/2" x 2 3/8"
SQUARE
360mm x 360mm x 60mm
14 1/4" x 14 1/4" x 2 3/8"
SMALL RECTANGLE
180mm x 360mm x 60mm
7" x 14 1/4" x 2 3/8"
Bundle Specifications:
| | |
| --- | --- |
| Coverage | 94.14 Sqft. |
| Coverage Per Layer | 10.46 Sqft. |
| Layers | 9 |
| Units | 72 |
| Weight | 2584 lbs |
Patterns: